Shine in Schools is all about two things: 
EQUIPPING Christian young people to live for God at school and
providing opportunities to EXPLORE the Christian faith at school.
Now that schools are open again and Christian groups are getting back together, now is a fantastic time to get involved in Shine.
New material out now!
SHINE's new 3-part Film series 'KNOWN' is available now!
"Known" is a film series about our desire to be seen and accepted for who we truly are. It explores the challenges of fame and identity while exploring the truth about how God values our uniqueness. This series is a reminder that being real and knowing God can bring a lot of comfort and security.
Shine website
The Shine in Schools website is the place where you'll find everything you need to run Shine in a school or church youth group.  When you have registered you'll be able to access the videos you need as well as the guides that have ideas and activities for your sessions.
Programme ideas
Depending on who comes to your group, you could use one of these programme ideas to cover 3, 4 or 5 weeks.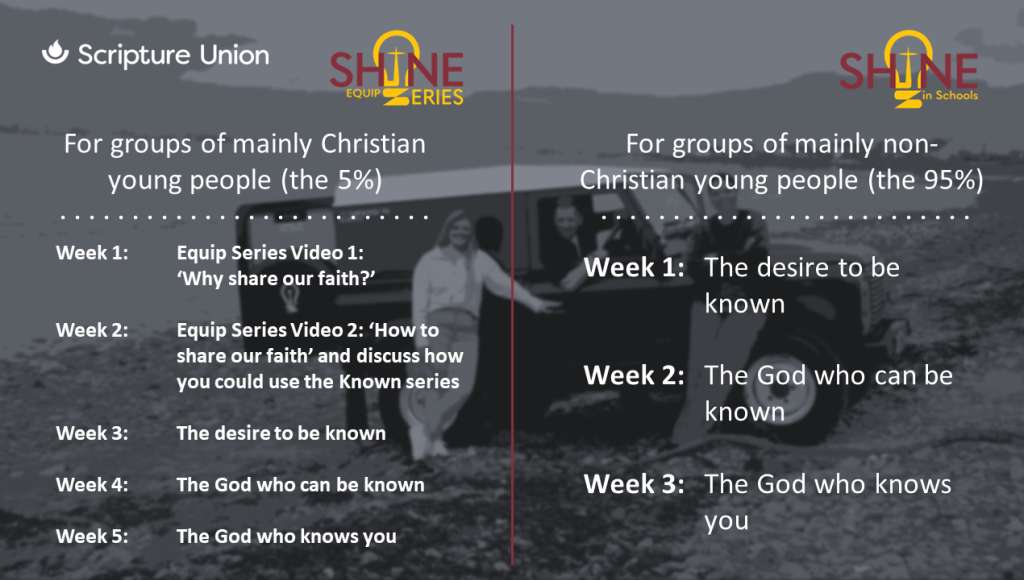 "It was amazing"
That is how one pupil described the Shine activities that they ran in their school.  They went on to say that one of the difficulties they faced was 'managing the number of students and finding a space big enough!'  The Christian young people invited their friends, watched the videos and then fired questions at a local schools worker.
This really does reflect what Shine is all about:  Equipping and Exploring.
Will you get involved in 2023?
Need more help?
Schools ministry is all about taking the good news of Jesus into schools and creating opportunities for children and young people to Connect with others, Explore the Bible, Respond to Jesus, and Grow in their faith.
Discover how we can help you and your church as you reach out to children and young people in your local schools.