A few years ago, whilst on a student placement with SU, Emily Finch spent all her savings on a double-decker bus to reach out to local young people 
There aren't many young women who count among their worldly possessions a 10-metre-long double-decker bus. But Emily Finch is one of them. The story of how she came to own it is one of passion for God and for young people – a passion ignited by Scripture Union.
For Emily it all began on an Action Abroad gap year placement organised by SU England and Wales in 2010. At just 18, she travelled to the other side of the world to serve with SU in Western Australia on schools ministry and youth camps.
"It was an intense time of growing, learning to depend on God and having my heart broken for children and young people," remembers Emily. "My time out there was when I first realised that youth work was what I wanted to do with my life."
It meant that when she returned to begin a degree at university, she found her heart was no longer in her degree subject:
"For the whole of my first year at uni, I knew I should be doing youth work! I was confused."
New direction
It was in a conversation with SU's north east regional team leader, John Stephenson, that the way forward became clearer:
'I told John, "I feel like God's calling me to youth work, but I don't feel like I should give up the chance to do a degree." John said, "Well, why don't you do a degree in Christian youth ministry and work with us at the same time? There are a lot of young people in villages, and someone needs to reach out to them."'
The next year, Emily embarked on a degree in Christian Youth Work at St John's College, Nottingham. For her first placement Emily started right where she was, in the seaside town of Filey where she'd grown up. She knew how little there was for young people in the town, so she decided to do something about it. Supported and encouraged by John, and the SU team, she started church youth groups and outreach events. One saw 150 kids from the local secondary school coming into church for the first time. Bible study groups were launched and young people began growing in their new faith.
A perfect idea
But it was another placement which started her on the road towards her current project. 
"I was working alongside churches in the small towns and villages on the outskirts of York. Small churches don't tend to be so well resourced, and people can be quite isolated. But there are a lot of young people in these places, and someone needs to reach out to them."
It was while praying about how to reach them that the idea of a bus came to her: 'When you think about it, it's perfect. A bus is mobile – it can move from place to place. It's a good space for youth work, and could be a big attraction for young people. I couldn't get it off my mind.'When she heard of a local church which had its own youth bus, she wasted no time:
'I was really cheeky – I went straight in and said, "I know this is really rude but I feel God's telling me to buy your bus!" The guy looked surprised and said, "How did you know we were selling it?" Of course I had no idea!'
The church had purchased the bus several years ago and fitted it out for use as a youth bus. But it was no longer in use, and the church had decided to sell it. Taking a massive step of faith, Emily bought the bus with her own savings, supported by Scripture Union.
The Bus Stop
'I want to make the bus a resource for smaller churches, especially those who have small numbers of young people, or none at all,' says Emily. 'I want to help them get something started for young people where they are, whether that's a youth group or a Youth Alpha.'
Starting this spring, Emily will offer the bus to churches, raising support through donations to her new charity, The Bus Stop. She is in the process of becoming a Scripture Union local ministry partner. But first there are a few bridges to cross: getting the bus repainted and refurbished, recruiting volunteers to assist her in each location and – crucially – learning to drive the bus herself!
Although Emily is clearly a gifted youth worker and pioneer leader, she is quick to give credit to the Scripture Union team who supported her every step of the way: 'I feel I've been massively nurtured by SU. John Stephenson has really taken me under his wing and helped me become a leader, giving me more responsibility and encouraging me step by step. They put trust in me when I was so young, always believed in me. I wouldn't be the leader I am now without SU and the opportunities they've given me.'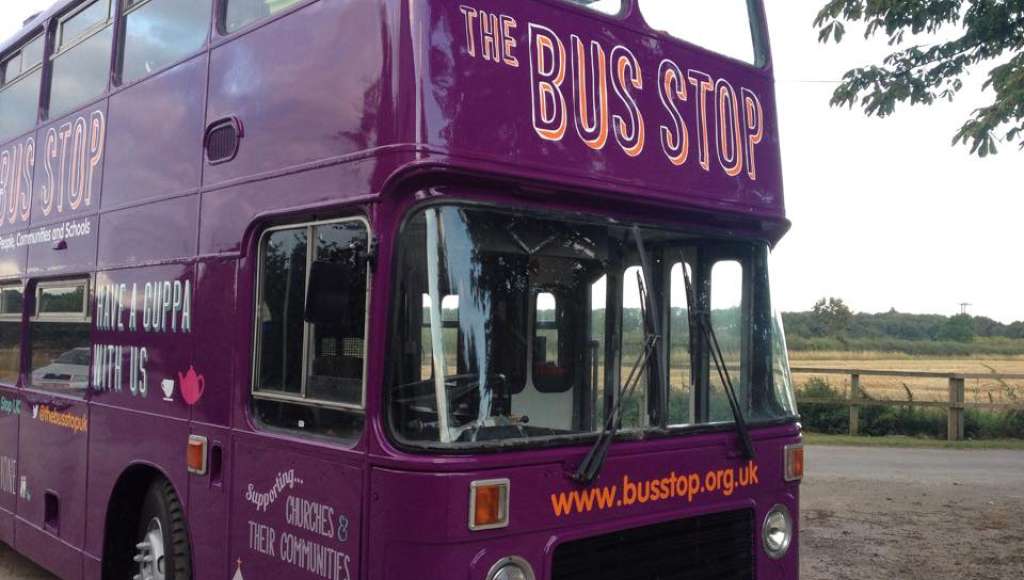 Find out more
If you'd like to find out more about The Bus Stop, or you can offer help in any way, do get in touch with them through their site.
Details
What your support enables