11-year-old Rebecca is just one of the thousands of children who have found faith or grown in their faith on an SU holiday or mission. Read her story...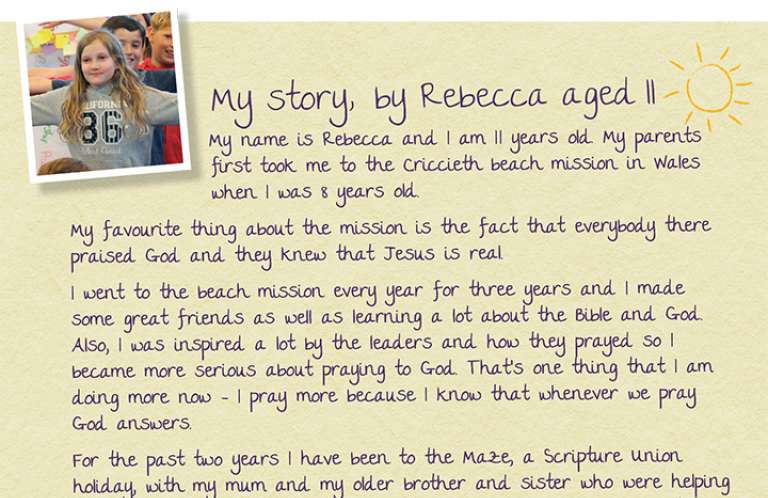 'My name is Rebecca and I am I I years old. My parents first took me to the Criccieth beach mission in Wales when I was 8 years old.
My favourite thing about the mission is the fact that everybody there praised God and they knew that Jesus is real.
I went to the beach mission every year for three years and I made some great friends as well as learning a lot about the Bible and God.
Also, I was inspired a lot by the leaders and how they prayed so I became more serious about praying to God. That's one thing that I am doing more now – I pray more because I know that whenever we pray God answers.
For the past two years I have been to The Maze, a Scripture Union holiday, with my mum and my older brother and sister who were helping as leaders. It was such an amazing experience, especially being with so many people who believe in Jesus!
I really enjoyed the massive water fight and the afternoon out playing Hunting the Leader, Bible study in small groups, music and other activities in the afternoon and worship in the evening.
I know now that having God in your heart is like having your best friend with you 24/7. I can't wait to go to The Maze holiday again this summer to meet up with my friends and to learn more about Jesus.'
Support the Holiday Fund
Please consider supporting our Holiday Fund so that more children like Rebecca can go on a holiday, who would otherwise not be able to. 
Details
What your support enables