Our work at Lifepath was to "Spread the knowledge of God" to all those children who attended, to the teachers, all adults they brought with them and maybe even to each other, as we served God during the week. It got me thinking about our senses – so I thought I'd give you a "senses roundup" of Lifepath.
Lifepath Brinkburn 2019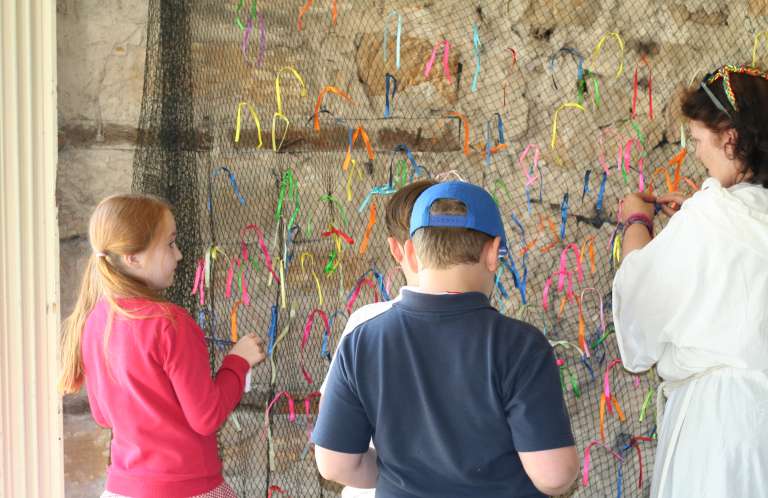 Sound – Lifepath starts with sound: from the "chants" the children make up as they walk down to the Priory and the music playing in the bushes on the track, to the songs that are sung. Lifepath is a noisy affair! This year saw the return of a "Singing" workshop, so alongside our daft songs, we had Gregorian chants and Monks plain song. However, the most powerful sound at Lifepath Brinkburn was the "silence" – during every workshop the bell rings to begin 30 seconds of silence. Lifepath stops, the noise of 130 children ceases, the sound of feet running around in the "Quest" workshop stops and we listen to all creation around us; the birds, the river, the trees. It is very powerful and moving.
Sight – Lifepath provides us with many opportunities to be amazed by our vision – the stained glass windows in the Priory, the team of volunteers in their white "habits", the beauty of the site as well as the activities we do. This year we saw Minions and their leader "Gru", real Franciscan Monks, pipe cleaner people, Playmobil people acting out the "Zaccheus" story, beautifully lettered names in Scriptoruim and groups of people doing "Bible aerobics"!
Touch – several of the workshops use the sense of touch. The coolness of the clay felt on hands in tile making, the soapy water in felting, as well as the making of seed bombs in gardening. In the craft workshop the children make "Proggy Mats" in the shape of Celtic crosses with rough Hessian and smooth wooden "proggers".
Taste – we are served by the Mighty Oaks coffee vans, with teams form Morpeth and Alnwick, who come to serve over 50 teas and coffees each day. What a wonderful thing it is to be able to serve each team member a good cup of coffee and they are so grateful for this little bit of care. We also have the lovely Lorna providing us with lunches. Her sandwiches, and tray-bakes, offer the team a break in the middle of the day allowing them to receive for a moment or two.
Smell – so whilst we didn't have any horrid smells this year, we were surrounded by God's beauty, the wild flowers and the trees provided a backdrop to the whole week.
Thank you to all for your prayer, money and for those of you who volunteered. I believe we DID spread the aroma of God's knowledge at "Lifepath Brinkburn"