Martin Nunn first encountered Scripture Union when he was a teenager. He now reflects on the impact SU has had on his life and shares why he plans to leave SU a gift in his will
Martin's story
I was brought up in a Congregational church by Christian parents and became a Christian in my late teens. Around this time I was recommended to use SU Bible Reading notes to help me read God's Word every day. This I've done for well over 60 years, and my daily spiritual 'feed' has sustained and delighted me throughout my life, right up to today. I still use Encounter with God.
In 1956, while in my early twenties, a Christian friend introduced me to the CSSM (Children's Special Services Mission), and I spent three happy summers on beach missions in Elie and Crail along the Fife coast. 'It's worth experiencing if you've never done anything like that!' he told me. He was right.
People used to come, take a boarding house and stay for a month. They were lovely family events – the same families came back year after year, partly for the golf, and partly for the CSSM beach mission! I remember making and decorating massive beach pulpits, rushing down with shovels and spades once the tide had gone out.
Those Scottish missions took place in July and when I was no longer able to return there, following my becoming a teacher in southern England, I transferred my involvement to Scripture Union's Southwold mission for several years.The fellowship and camaraderie on those missions was a real joy to experience, and so was the privilege of introducing youngsters to their saviour.
"I'm so thankful and grateful for those summers, working alongside other members of the team. It really helped my own faith to grow."
My career was in education, and as a teacher in a secondary school, I led a flourishing Christian Union. I always introduced SU notes – Key Notes were very popular amongst the young members, with Daily Bread for more mature students.
Outside of school, I helped run youth groups for 30 years in church. I have kept in touch with many of these young people and it is a constant joy to know that sees sown many years ago continue to bear fruit today.
I'm leaving Scripture Union a legacy because SU has been so faithful to its remit to spread the gospel, particularly amount children and young people.
"To get to know God, you've got to get to know his Word, and I know that SU is helping people do exactly that."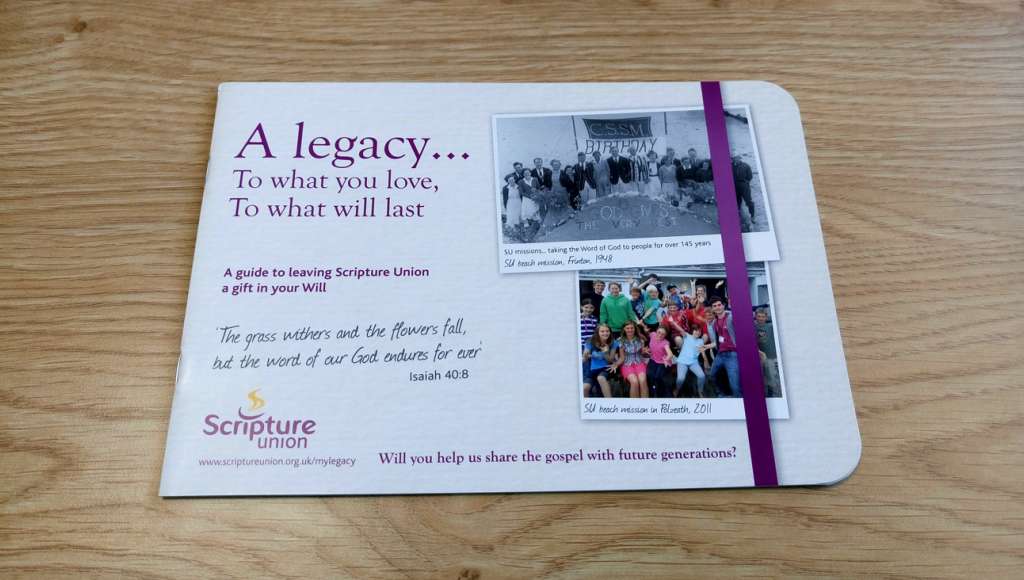 FREE legacy guide
Our free legacy guide – A Legacy: To what you love, to what will last – will provide you with all the information you need about leaving a legacy to Scripture Union.