Last autumn, your support enabled SU development worker Bob Goody to bring together churches and schools in Nottinghamshire – and it's helped to take mission to children and young people not in church to spectacular new heights.
When Bob helped to lead the Higher Tour in Cambridgeshire in October 2018, he felt God challenge him to do something similar on his home turf of Nottinghamshire. So he devised the Hope Tour to visit 20 schools across Mansfield and Ashfield.
'But for the Hope Tour to have lasting impact,' says Bob, 'we needed the local churches to work together, develop follow-up events to which we could invite children and young people, and commit to journeying with them longer term.
'It was a lot to ask. But when I shared the vision with the churches, suddenly there were prayer meetings happening, leaders getting together to discuss what part they could play, new initiatives being planned – they really stepped up to the challenge!
"Since then, a number of those families have joined church-based groups or church itself."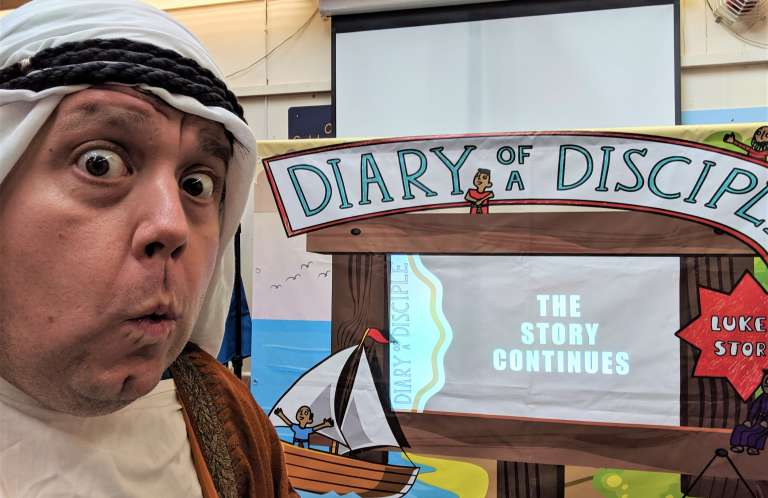 'For the primary schools, I wrote a one-hour, one-man show based on SU's Diary of a Disciple book. Playing Dr Luke, I shared the story of Jesus and why he came with 5,000 children in 15 schools over 2 weeks. I invited the children and their families to Family Fun Saturdays at the end of each week, which I organised with help from church volunteers. We offered food, crafts and games, and a Christian illusionist shared more of Jesus' message, and gave out goody bags with tracts and invitations to forthcoming church activities including Lego church, Messy Church and mother and toddler days.
'Since then, a number of those families have joined church-based groups or church itself.  And some churches are now running lunch clubs and assemblies in schools they'd never been in before!
Exceeding expectations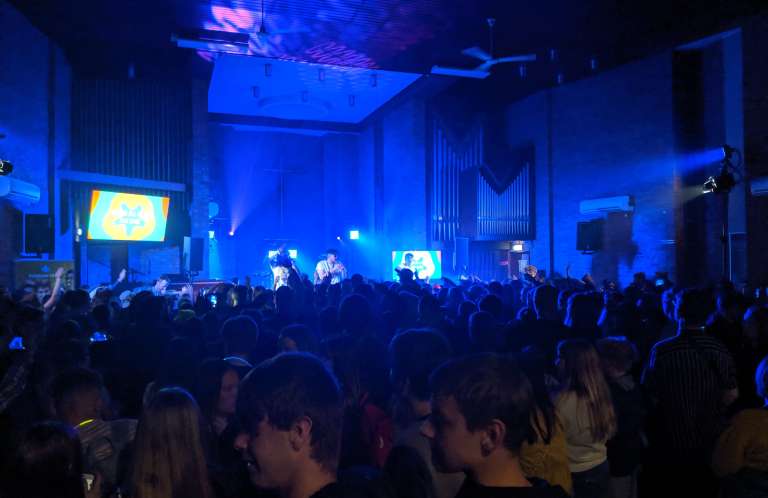 'In the five secondary schools, Christian bands Brightline and SoulBox shared their faith stories with nearly 4,000 students during lesson times. One lesson was gatecrashed by a gang of kids wearing black nail polish and eyeliner who started mocking the band. One later said "I thought this was going to be rubbish. But it was actually amazing!"
'Seven hundred students came to two follow-up concerts on the Friday and Saturday, and 98% responded to an invitation to find out more about Jesus – Brightline said they'd never known such a high response rate before! Those responding included all bar one of the gang who had disrupted the lesson – they even took a Bible away to give to the lad who couldn't make it.
"The bands are only here tonight – but these guys are here to support you day in, day out."  
'We invited the church youth workers onto the stage to introduce themselves, saying "The bands are only here tonight – but these guys are here to support you day in, day out."  And every student left the event with a copy of John's Gospel, and a link to a website that explained more about Jesus – it had hundreds of visits in the weeks that followed. A Youth Alpha has launched, some of the young people now go to church or church-based groups, and the local churches are getting together to run further concerts once a term. 
'I've been so inspired by the way that local churches have sprung into action and changed their whole approach to mission. There was very little in this area before – now they've developed a whole year-round programme and are building ongoing relationships with children and young people who never come to church. They've used what they've got to do what they can. Doors have opened, children and young people's hearts have been opened – and God's kingdom is being built in a wonderful way.'
Support outreach activities like the Hope Tour
It's only through your gifts and prayers that SU development workers can support local churches in mission like Bob did. To give a gift, click the button below or call 01908 856 000.
Read more Connecting You stories
This story featured in the Spring 2020 edition of our supporter magazine, Connecting You. You can read more Connecting You stories here.
Details
What your support enables