It's thanks to your generous donations that we can organise weekend residential camps like SOLID, offering all kinds of adventure activities and opportunities to explore faith and worship Jesus. It's the perfect space in which children and young people can take the next step in their faith journey or encounter Jesus for the very first time. 
It's July, and hundreds of children, young people and youth leaders from over 50 churches are gathering at Stubber's Adventure Camp in Essex for SOLID, a high-octane mix of activities and spiritual input. Morning and evening, there's worship, prayer and reflection, theatre and talks which all bring the gospel to life. In the daytime, participants enjoy an assortment of activities from high ropes, abseiling, jet skiing and archery to football, drama and a silent disco. Staging an event on this scale takes a huge effort, and SOLID brings together many organisations and local churches who share a commitment to see young people encounter Jesus. 
"I felt something I've never felt before so this weekend I have given my life to Jesus." 
By the end of the weekend, 136 young people had made a commitment to follow Jesus. One girl said, 'I finally feel like I have a place to be myself, a place that feels like home.' Another said, 'I have had a lot going on at home and it has really affected me but this weekend I have felt this energy that everyone here gives off and I felt something I've never felt before so this weekend I have given my life to Jesus.' 
Supporting and strengthening relationships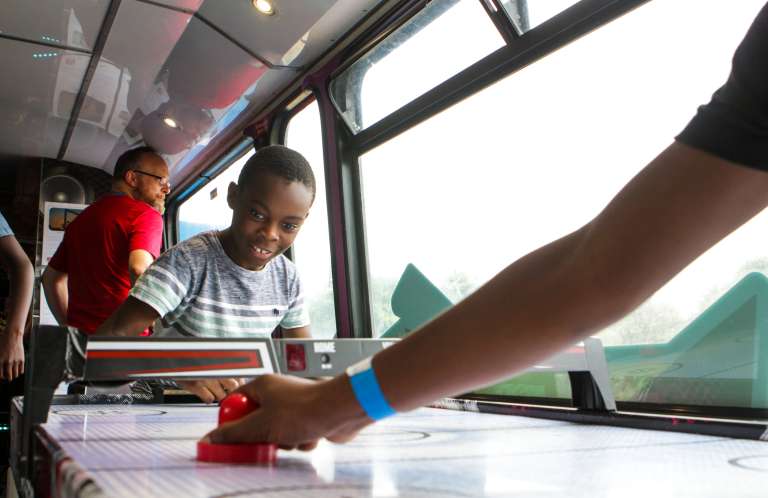 Those already with faith found it deepened, with God challenging them in new ways. One young man says, 'On Friday night a lady I'd never met asked to pray for me and she told me that God gave her the word "courage". Through the worship at Solid I have felt God telling me I'm worthy and to have courage to spread the word.' SOLID works because of the commitment from churches and Christian groups who bring children and young people to the event. They can see the value it has in supporting and deepening the ongoing relationships they have with those children and young people, often from unchurched backgrounds.
Ed Jones pastors a church in Battle and works regularly with children and young people not in church. He and a team brought a group of them to SOLID. He says, 'It was brilliant being alongside some of the lads, seeing them engage and respond. Four of them made a commitment to follow Jesus. One girl went up for prayer and was healed of pain in her leg – that had a huge impact! Some of our young leaders sat with her and led her to Christ.' 
Alex Shoderu brought a group of young people that he knows from his sports mission sessions in Kings Cross. He says, 'SOLID has an atmosphere you can't create in your own setting, and it gives the kids more spiritual input. God's Word gets preached and there's an opportunity for kids to respond. It's really woken them up to the reality of spiritual things, helped them take another step forward on their journey towards faith, and now God is more real to them. 
"All the kids I brought last year wanted to come again, and some new ones too. That speaks volumes about how much they got out of it."
Bring a group to SOLID 2020!
If your church is working with children and young people, whether part of a church or not, why not bring them to the next SOLID?
Read more Connecting You stories
This story featured in the Winter 2019 edition of our supporter magazine, Connecting You. You can read more Connecting You stories here.